Kairos in brief
Increase your child's autonomy with Kairos
1

Your child keeps up with their daily schedule.
The app will notify the kid for each chore according to your specifications. Saving the world is teamwork!
2

Parents have easy access.
Monitor your child's accomplishments in the Parents section of the app. The dashboard gives you a detailed picture of what your child is doing right and how you can help.
3

Reward the hard work!
Real life progress turns into cool superpowers and customizing options for your child's avatar in the game.
What they love
The coach, a digital education advisor
The science-based approach
The positive reinforcement
The user-friendly interface

Cool superpowers
Customizing their avatar
Colourful gameplay backgrounds
Saving the world from monsters!
Advantages
Change the way you think about routines
Rediscover the fun part of parenting

Let Kairos do the reminding for you.

Develop your child's autonomy

Kids learn better when playing.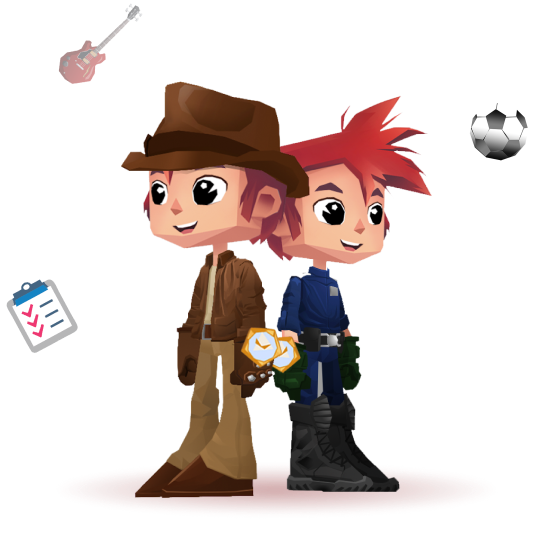 Create a positive atmosphere

Use the handy tips from the app's parenting coach.

Lighten the load.

Kairos will keep your family's daily routine on track.
"I can't wait to get out of Kairos. When I tested the game it worked wonderfully. I will definitely use the app! "

' J'aimais avoir des tâches à faire tous les matins, car, si je réussissais, ça me donnait de nouveaux pouvoirs pour faire les tableaux. '
Kairos
A scientifically based and tested approach!
My son, Will, is diagnosed with ASD

2015

Observing the need for fun tools to help manage daily routine

Spring 2016

First concept under the name 'Hero'

2016

Beta version tested with children diagnosed with ADHD or ASD and their families. Partnership with the Focus clinic, located in Québec City

2018

Clinical studies with UQTR

Spring 2020

Kairos official launch

2021