Free Printable Emotion Wheel
The Emotion Wheel helps children of all ages welcome their emotions in a positive way instead of avoiding and repressing them. Download and print our set of 3 wheels now and help your children (and yourself!) to better recognize and control the emotions you feel.
Download the complete set for free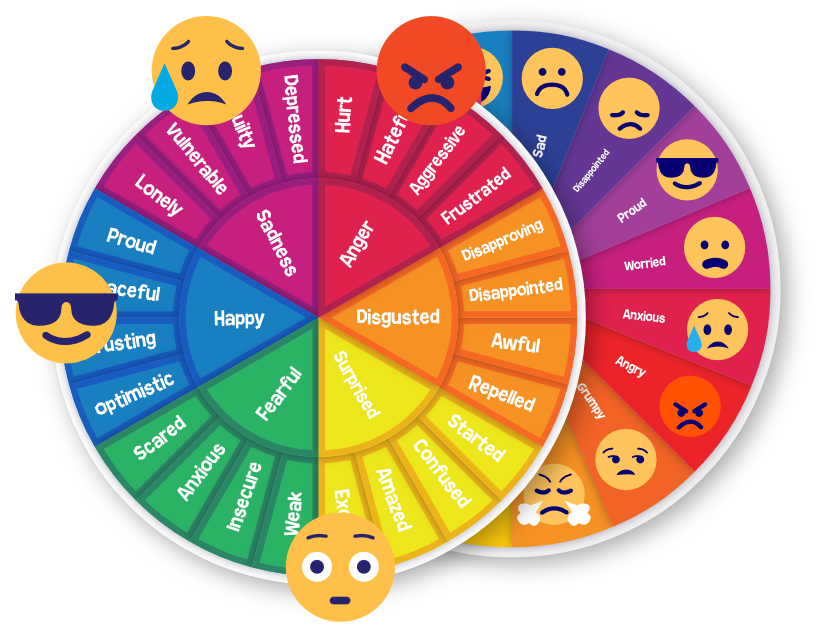 Choose Among Three Wheels of Emotions Adapted to your Children and Your Needs.
Is your child having trouble controlling their emotions? Whether it's anger, sadness or fear, these fun wheels are tools that will help your children manage and understand their emotions. Expressing emotions clearly is the first step in learning to manage them.
All three wheels are adaptable to the age and development of young people, offering a high or low number of emotions, which will allow you to monitor your children's progress. Be sure to use the wheel that is appropriate for your child's level of understanding! A wheel that is too advanced can be confusing, while a wheel that is too simple can be boring.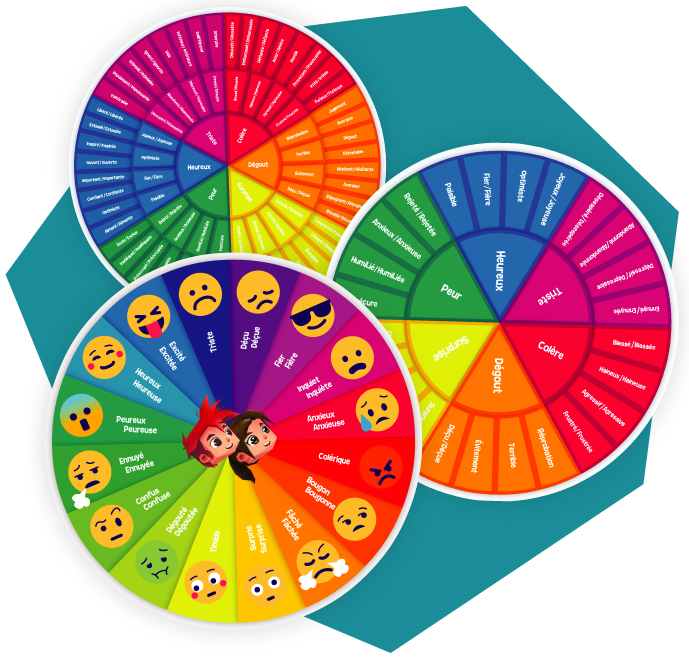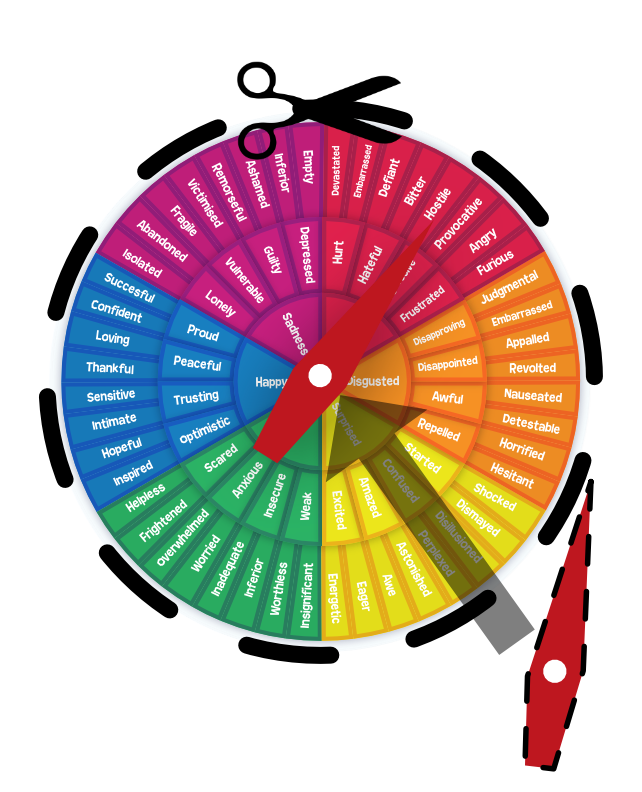 Emotions that Are Easy to Cut Out and Use!
Make building your emotion wheel into an activity that will get your children involved and embrace this tool in a positive way. We are proud to offer a product that is easy to use, meets the needs of families and is ready in 4 easy steps: 
Download the emotion wheel for free in PDF

Print and cut out the three images

Glue the three images on a cardboard sheet (optional)

Insert the arrow with a thumbtack in the centre of the wheel
Download your emotion wheel for free
Why Use a Feeling Wheel?
First, an feeling wheel is a vocabulary-rich tool. The wheel allows people of all ages, especially children with disorders such as ADHD, to better communicate their emotions. This reduces conflicts and misunderstandings quickly. Count on the Kairos Emotion Wheel to support you through your day and help you have constructive discussions! 
In addition to promoting communication, the wheel can be extremely helpful in a child's development. It is an effective way to learn about themselves and to feel comfortable talking about their emotions. The wheel helps young people identify and learn to control the emotions they feel, which helps them avoid crises or conflicts. The wheel is an incredible tool to help bring peace to a family!
How to Use the Kairos Emotion Wheel?
How to Use the Wheel?
Once the wheel is printed and assembled, you can immediately begin to use it with your children. For effective use, start in the middle of the wheel by naming a basic general emotion that is felt. Then, name the next level of emotion on the wheel to specify the emotion you are feeling. 
Here are the details of the three different wheels:
The first wheel is a version with illustrated emotions. This is the basic wheel to use with younger children with less developed vocabulary. The emotions found on this wheel represent the most common emotions and form a solid foundation to start learning.

The second wheel offers more options and two levels of emotions. There are the basic (most general) emotions and a circle of emotions that diverges from them with more specific emotions that better describe what your child is feeling.

The third wheel offers three different levels of emotions, and this one helps to have much more specific and constructive conversations. This more advanced wheel requires a higher level of understanding and allows you to get as specific as possible about the emotions your children are feeling.
And there you have it! Now it's time to use the wheel with the kids! Be sure to use it for both positive and negative moments: you don't want your children to associate the wheel with difficult moments. Here are some tips for using it 
Take advantage of family moments like dinner to discuss your emotions and use the wheel as a "dictionary" of feelings.

Use the wheel before the situation escalates too much, it is a tool that can be used to defuse a situation and prevent a fight. This is a primary need for many families!

Empathize with your child or others in the discussion. Your children need to feel comfortable and cared for, and everyone reacts differently to challenges and experiences emotions differently.

 
When to Use an Emotion Wheel?
An emotion wheel can be used in many contexts with younger children to stimulate their development and recognition of their emotions. For older children, it is ideal for understanding their own emotions but also for identifying other people's emotions. This helps to avoid conflicts and misunderstandings. Users of this tool may have different needs and use it: 
For family discussions!

To welcome a children's emotions and help them express themselves.

When emotions are overwhelming you and you have difficulty naming them, use the wheel to put words to these feelings.

With friends, with a therapist, or even alone to help you understand and explain a situation.

To help your children pay attention to other people's emotions and develop empathy.

In various professional situations, such as hospitals, rehabilitation rooms, schools, in human resources in companies, and many other contexts.
Learn More About the Emotions Used by Kairos
What Are General Emotions?
What exactly is an emotion? When we experience an emotion, it is a psychological and physical reaction to a particular situation. Emotions manifest themselves differently from person to person, and can be a simple internal manifestation as well as an external action (a child is sad, so he cries).
We recognize six basic emotions, which are included in the inner circle of our emotion wheel:
Joy

Sadness

Fear

Anger

Disgust

Surprise
Then, secondary emotions are a mixture of the basic emotions. For example, nostalgia can be a mixture of sadness and joy. You can compare the basic emotions to the primary colours, a mixture is made and a new colour emerges.
Secondary emotions are subjective, and it is important to remember that we do not feel the same emotions as others in certain situations. When talking about emotions with your loved ones, be sure to provide an inclusive, non-judgmental environment that will welcome all feelings.
Kairos: A Tool to Help You Create Family Harmony
Kairos is a tool that helps parents implement effective learning methods at home. Kairos gives you a hand with the home routine, to transform this time of day that often rhymes with arguments and conflicts into a positive and fun activity. The Emotion Wheel is offered for free by Kairos and complements the application to improve family harmony. But Kairos Game is much more than that!
The Video Game to learn routine and tasks in a fun way!
Kairos is a game for phones and iPads made to encourage children to learn a routine and help them develop good habits and autonomy. It's also a way for parents to use positive reinforcement: clearing the table after dinner and brushing teeth will help them advance in the game, for example by unlocking a new power!
Kairos Game has been very successful with development of routines, for example morning and evening. The parent's interface allows for subtle monitoring and finding the right actions to take, as well as taking a weight off their shoulders. Don't hesitate to contact us to see if Kairos Game could be the solution to your problems!