Routine Cards


Use Cards to Make Your Children's Daily Tasks Easier!

Using routine cards to establish an effective routine at home with children is the most effective way to develop autonomy and good habits. A home with less conflict is a home with happy children and parents!
Download the complete set for free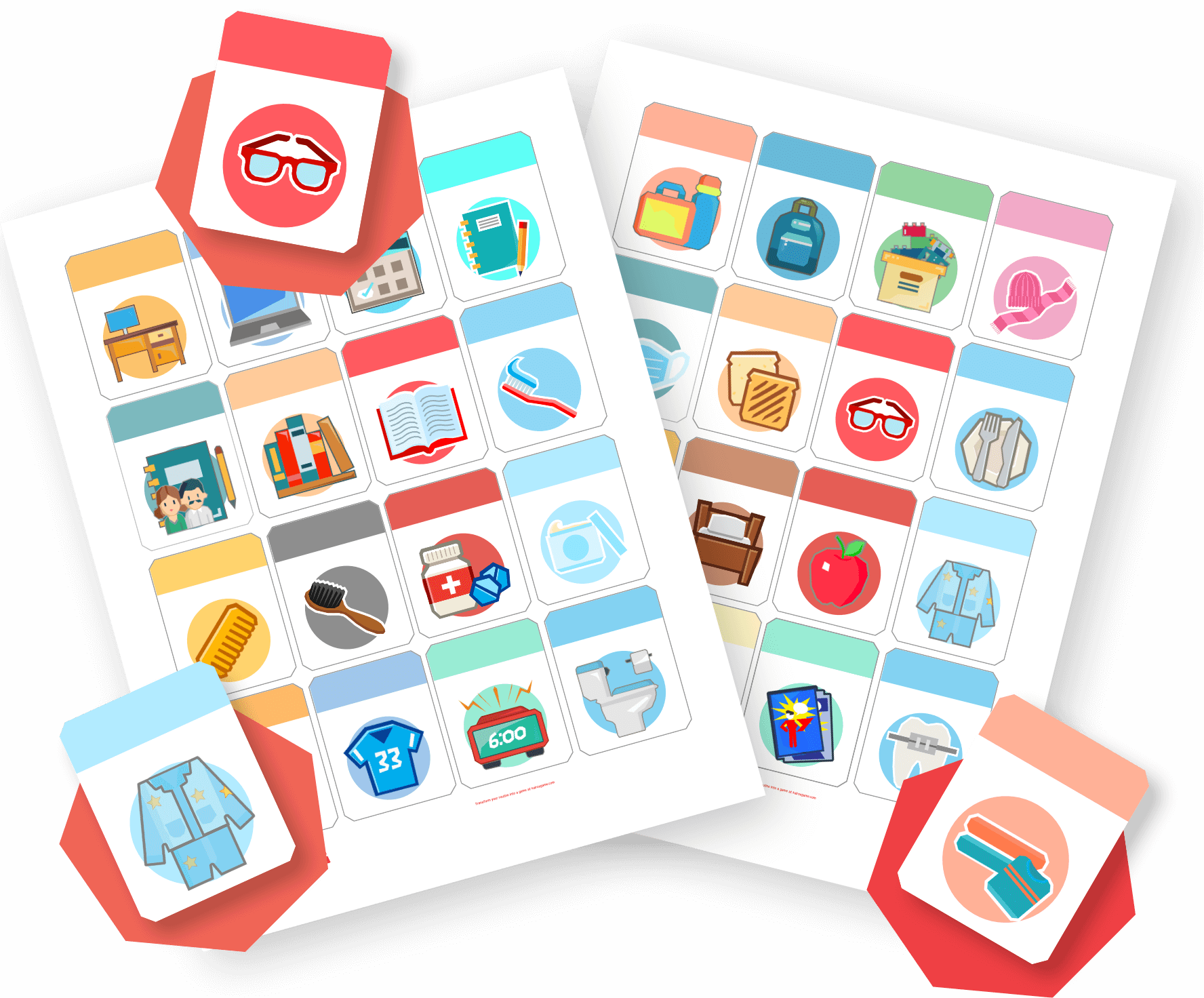 Daily Routine Cards: Tools for Establishing a Concrete Routine and Family Harmony
Add cards to your family routine to ease chores and implement a regular schedule with kids. Find 50+ free printable and downloadable routine cards for routines done with cheerfulness, no grumbling and no repeating. Develop a positive outlook with Kairos' tools to make it easier to ask your kids.
Download our free cards bank to facilitate your home routines!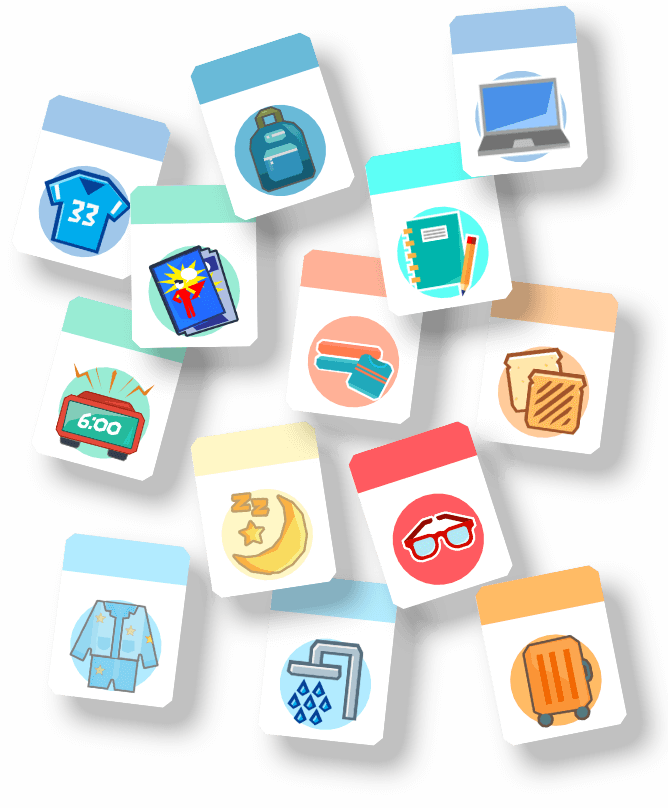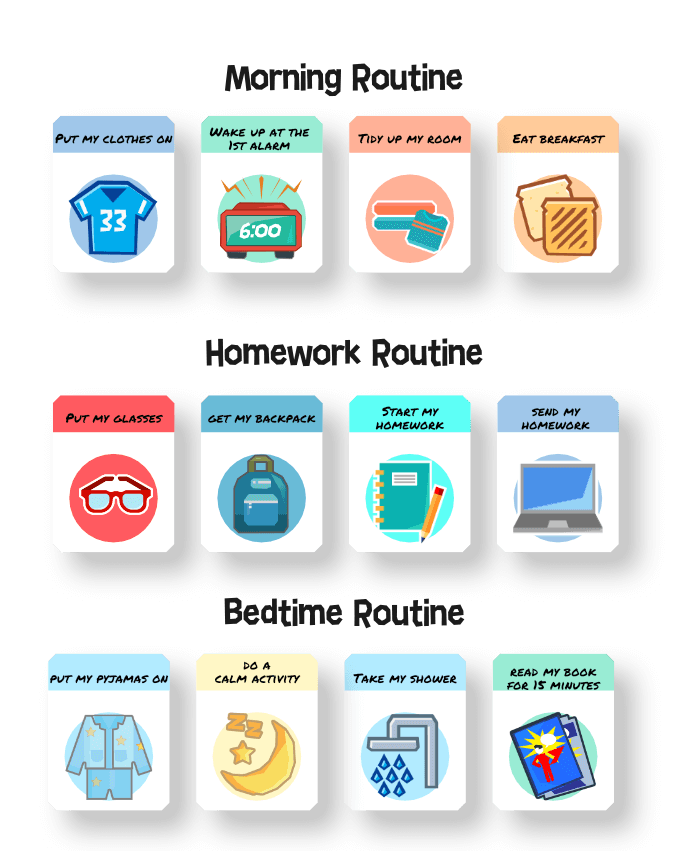 Cards for Every Imaginable Routine and Tasks
We make sure that the cards include all the most common tasks in families: after all, Kairos was created by a mom who needed help with her kids' routines. With the help of parents, we were able to create a list of tasks that are frequently asked of children to offer a product that is realistic and effective!
Your complete card set includes:
12+ cards for the morning routine

12+ cards for bedtime and hygiene routine

7+ cards for daily tasks

5+ cards for school and homework

5+ cards for meals (lunch or dinner)

Can also be used by ADHD children and children with an ASD diagnosis with excellent results
Download your free printable routine cards
Your Free Routine Cards to Print!
Do you have trouble keeping a consistent routine with the kids? Do your children grumble or complain when you ask them to do tasks? Reduce your parenting stress today by implementing effective routine tools with Kairos!
Organize your tasks and simplify the management of your routine now with Kairos! We offer this tool to help parents find some peace in the house. A parent who is less exhausted is able to be much more patient with the kids, which is why we are offering this product for free! Download it to see all the cards available at Kairos. 
Follow these three easy instructions to create your own routine with cards at home:
Download the cards, print them and cut them out!

Add a description if needed in the appropriate place

You can use Velcro or tape to stick the cards in the appropriate place. To ensure that the cards last longer, we recommend that you laminate them.
See below for a complete list of all available routine cards: download, print and start using your cards for free!
Routine Cards for Children of All Ages!
Kairos' cards are easy to use for children who can read and write as well as for younger learners. Each card has a drawing and text to help understand the specific task. 
Don't worry about the younger ones who can't read yet. The cards are well detailed and the task pictures are easy to understand. You can also use the cards to practise reading with your children! This is a great way to develop your child's reading skills and see their improvements.
Why cards for Routine?
Routine cards can be very helpful for parents who have difficulty with children's daily routines. A routine using cards reduces parental stress and helps children remember all the tasks they have to do.  
Here are the reasons why routine cards help life at home:
Children are easier to manage when a nanny is looking after them. A to-do list is made by parents before leaving.

Gives children a sense of repetition. A well-established routine helps children reduce their grumpiness.

Routine cards help children to be more independent and perform tasks on their own, without mom or dad asking!

This tool helps reduce the number of times parents have to repeat requests.
More Independent Children!
Help your children become more independent with routine cards. For example, do a dressing routine in the morning: this will help them get dressed on their own. It is important  to teach them to develop their independence at a young age, to prepare them to face different challenges in everyday life. Also, by stimulating them regularly, children are generally less anxious!
Choose routine charts that are perfect for your children! Whether it's mornings before school, weekends or evenings before bed, we have a routine that can suit you and your child's needs.
When and Where to Use the Routine Cards?
Routines with children are difficult to implement at home: parents often have to repeat several times before the child develops autonomy, which can create a negative environment. Instead, focus on a fun approach based on positive parenting! Making routine into a game is more interesting and rewarding, and it stimulates and encourages children to do what they are asked to do. Routine cards can be used in any setting to help children remember the tasks they need to do. Use the cards to make routines fun and rewarding for kids! 
Many professionals working with children use our cards to enhance their work. The cards can be used by anyone to remind them of the steps in a routine. Here are some examples of professions that use Kairos' cards with great results:
Daycare workers

Elementary school teachers

Childhood therapists

Social workers

And much more!
Use the Cards When Children are in Childcare!
Routine cards can be very useful during evenings when children are being cared for by a babysitter or grandparents. It provides a sense of repetition and stability for the children and a list for the caregiver to follow. It is more difficult for children to avoid their daily homework with a to-do list. 
The key for posters and routine charts to work is perseverance!
When you start using the cards at home, it is important to be consistent in its application in order to develop the routine habit with your children. With a little perseverance, your children will understand that it has to be done every day and not only when they feel like it. To transmit good discipline to your children, you must be disciplined in what you ask of them!
Kairos: A tool to Help Your Family Harmony
Kairos is an app that helps parents implement effective learning methods at home. Reduce the number of family arguments with concrete and effective routine management and live in a healthier and more positive climate. Kairos offers solutions to ease daily routines and reduce the irritants during the learning process. The emotion wheel  is another tool that can be used to improve family harmony. But Kairos Game is much more than that!
The Video Game to learn routine and tasks in a fun way!
Kairos is a game for phones and iPads that promotes learning a routine and helps children develop good habits and independence. It's also a way for parents to use positive reinforcement: clearing the table after dinner and brushing their teeth will help the children progress in their game, for example by unlocking a new power!
Kairos Game can help you succeed in the routines that give you the most trouble, such as the morning and evening routine. The parenting section allows you to follow your children's learning in a concrete way and supports you with advice on the right actions to take, in addition to taking a weight off your shoulders. Don't hesitate to try Kairos for free: who knows, it could be the solution to many of your problems! 
Complete Routine Cards List
Here is a list of all the cards available to help you create effective routines at home. These posters and charts can be used in the morning and evening! The beauty is that you can do whatever you want with them! These posters and charts are generally used in the morning and evening, and they work great!
1. Homework / School Cards
Homework / Distance learning

School agenda

Notebook

Review homework

Reading, Read a book
2. Daily Task Routine Cards
Wash your laundry

Putting clothes in the laundry basket

Sweep / Wash the floor / Tidy up

Take out the trash / Take out the garbage

Feed the cat / Empty the litter box

Feed the dog / Walk the dog

Shovel snow / Garden

Put in the recycling / Take out the recycling

Putting away laundry / Folding laundry

Talking with mom and dad
3. Hygiene Routine Cards
Toothbrush

Comb / Brush my hair

Take my medication

Take my shower / Bath / Wash myself

Put on cream

Wash my hands

Dry myself / my hands
4. Posters for the Evening / Sleep / Bedtime Routine
Going to bed / making your bed

Putting on pajamas

Reading a book / quiet activity

Go to sleep / sleepy time

Pack a bag / pack a suitcase

Reading a story before bed

Oral appliance
5. Poster for Morning Routine Tasks and Activities
Sports bag

Getting dressed / getting dressed card

Putting on the clock / alarm clock / waking up

Go to the bathroom / pee

Take your lunch / put away your lunch box

Backpack / school bag / empty bag

Putting away toys

Winter clothes / Winter clothing

Put on your mask

Put on your glasses

Waiting for the bus / Taking the bus
6. Cards for Tasks that Include Food
Breakfast / Prepare breakfast / Lunch / Dinner

Plate and utensil / Washing dishes / Setting the table

Setting the table / Picking up the table / Eating at the table

Have a snack / Have fruit

Dishwashing / Putting away your plate