Chapter 4
The Morning Routine - How to Maximize the Success of Your Morning Routines with Your Kids
The morning routine is a tool that transforms your mornings from a daily ball of negativity to a real ray of morning sunshine. How to maximize your success?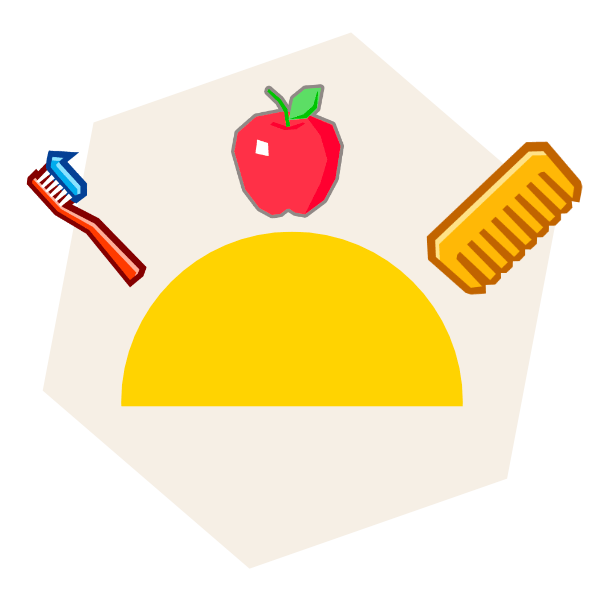 Everything becomes easier with a good routine, especially when you have children! A good morning routine gets everyone off to a good start and gets rid of some of the little irritants of the day. From waking up, to getting dressed, to leaving for school, to having breakfast, discover Kairos' tips for a good morning routine!
As you can imagine, it all starts with your sleep...
We can never say it enough, sleep is crucial for the development of your children.
Think of the many mornings in your youth (and perhaps even in your adult life) when you would fall asleep in the wee hours of the morning... only to go to work a few hours later. Getting out of bed and your entire day would become a battle.
Needless to say, it's the same for your children. Even worse, according to the National Sleep Foundation, children between the ages of 6 and 13 need an average of 9-11 hours of sleep. Recurring sleep deprivation can affect many aspects of a child's development.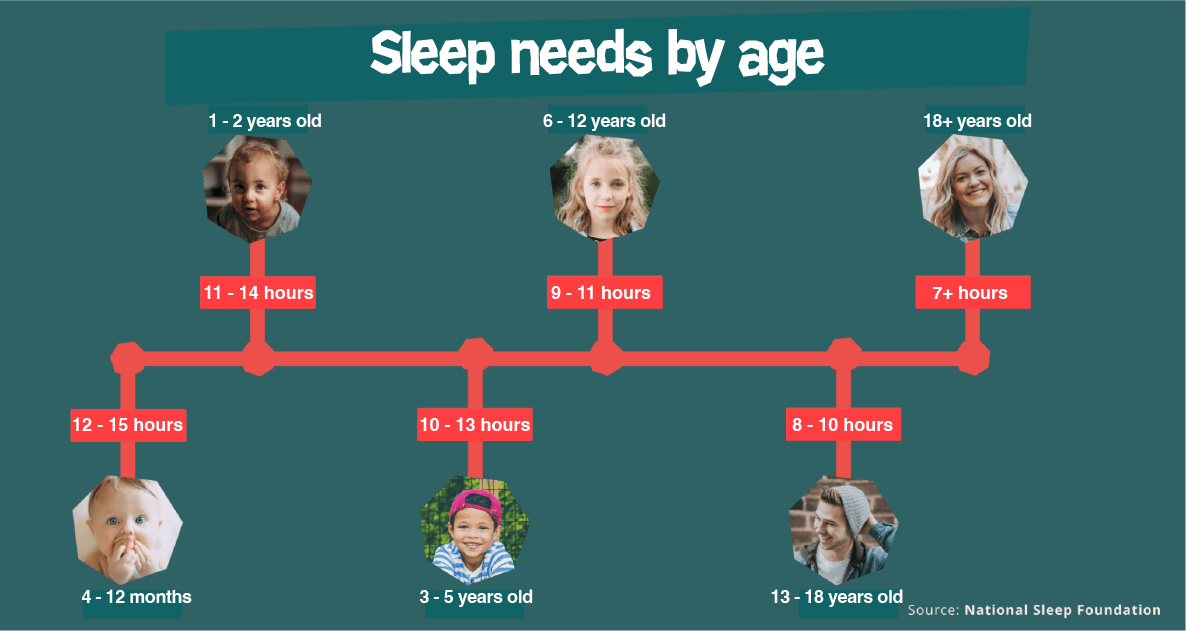 Different Ages Means Different Sleeping Needs!
In order to maintain a good morning routine, it's important to make sure your children get a good night's sleep. A good night of sleep puts the odds in your favour for a good morning! The only question that needs to be answered now is how to sleep well.
There Is No Secret RecipeYou Need a Good Sleep Routine
There are not a million ways to get a good quality of sleepit is necessary to have a regular bedtime, preceded by a good sleep routine to improve your sleep hygiene.
Not only will you avoid many unproductive altercations with your children in the morning, but you'll also ensure that you will have a productive day too (pro tipyou need to sleep 7-9 hours a day!)
Here is an example of an evening routine used by many parents with success:
8PM - Let them relax in the tub. You can read to them or they can read to themselves. Beyond hygiene, a bath can help a child relax at the end of the day.
8:20 PM- Three-part routinedry, brush teeth and pee. You don't want to hear,Mom, I have to go to the bathroom!" five minutes after saying goodnight.
8:30 PM- Get into pajamas and clean-up toys to set a nighttime scenario, not a playtime.
8:40 PM - Read together.
8:55 PM - Your child goes to bed. Get into your bedtime routinetalk about the day, praise your child for things they did well, say goodnight.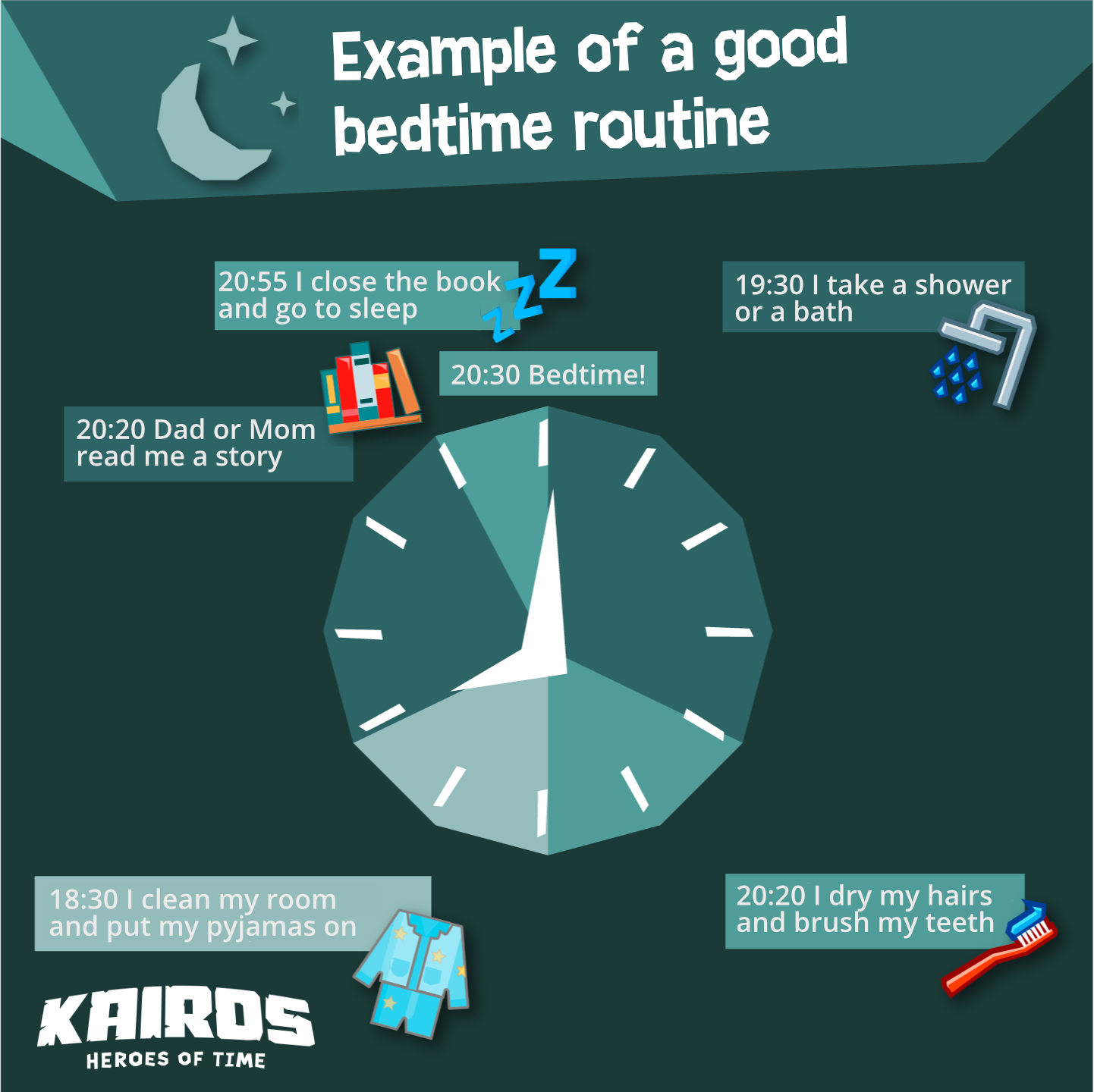 For more examples, visit our blog post with four examples of daily routines for your children.
Make Sure You Start Your Morning Off Right With Kairos' Routine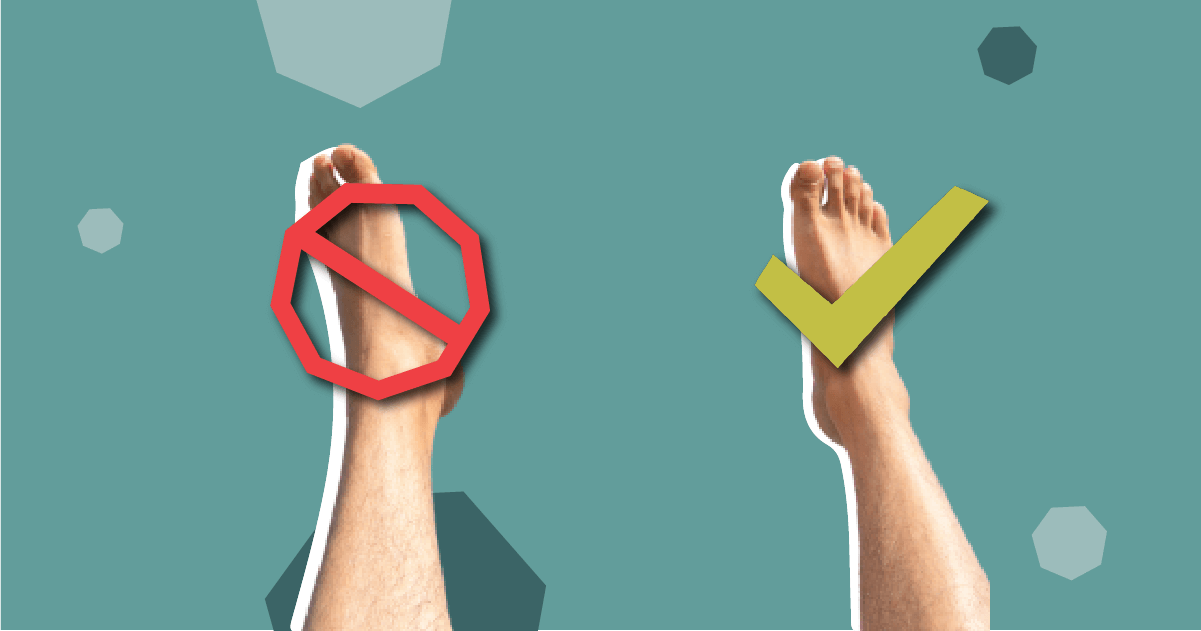 You are struggling to leave the comfort of your bed in the morning but have a hard time falling asleep at night? It gets worse when someone asks you to leave your bed to do something you don't necessarily want to do (in this case, go to school). It helps to put your children's morning into perspective and understand their point of view!
Throughout the morning routine, from waking up to leaving for school, Bryn Huntpalmer of the parenting blog A Fine Parent recommends encouraging your child to participate in chores and try not to do everything for them. It might be quicker in the short term to put on their pants for them, but this small action can contribute to a power struggle that you will pay for in the future.
What Are the Tasks of a Productive Morning Routine?
1. Plan the Wake Up
Every morning routine starts with the sound of the alarm clock! Invite your child to choose how they want to wake up (alarm clock, music, parents waking them up, etc.).
Give them time to make the transition from sleep to wakefulness. Take a few minutes to gently wake them up, rather than rushing them out of bed. Tickle them, stroke their hair, sing them a song or give them a kiss on the forehead. The cozy bed will be less appealing when mom or dad is there for them!
Not only will your children's wake be more positive, but it will allow you to better connect with them and reduce the stress level in the family. It's the best way to start your day right!
2. Make it Easy to Get Dressed
Once the kids are out of bed, it's time to pick out clothes! Do we let our kids choose what they will wear for the day, or do we choose for them?
If you want to keep control of what they wear, make a list of outfit options for your little ones and let them choose their look for the day. Keep the options limited so you don't overwhelm them with too many choices (and avoid some outfits that would seriously deserve a style infraction!). Kids can take part in the task and your mornings are more productiveeveryone's happy!
3. No Morning Routine is Complete Without Breakfast
Cereal, toast or a three-course gourmet breakfast? Breakfast can sometimes be a source of conflict, so make it part of your routine! To avoid a power struggle, offer your children 2 breakfast options. This way, they will have chosen the breakfast they were interested in and will be much more motivated to enjoy it.
You should make time to have breakfast with them. Some of you may not eat breakfast, or you may bring one to eat at the office but remember that kids imitate what their parents do! The first meal after bedtime is the most important meal of the day. So it's important to incorporate healthy habits in your morning routine with your children. If they don't see you eating breakfast, they will only copy these habits and thus won't adopt a healthy morning routine.
4. Brushing Your Teeth After Breakfast
When it comes to brushing their teeth, it can be hard to get your kids to understand the importance of good oral hygiene. Sometimes showing them a single picture of your great-uncle Yves' smile is enough to get them to brush their teeth 3 times a day for 2 minutes, but most of the time it requires a little more.
Our Pro Tips for Teeth Brushing
Brush your teeth with them! Kids imitate what their parents do! Plus, it ensures that they do it right and you can speed things up if needed. After all, you need to brush your teeth too!
A tip from our expertsuse a timer! Get a timer or an hourglass. If they don't find it exciting, put on their favourite song as a time indicator.

Change toothpaste. Your kids aren't interested in brushing their teeth? Maybe they just don't like it! Try a toothbrush with a special flavour, it will motivate them. If you're lucky, they'll ask you to brush their teeth.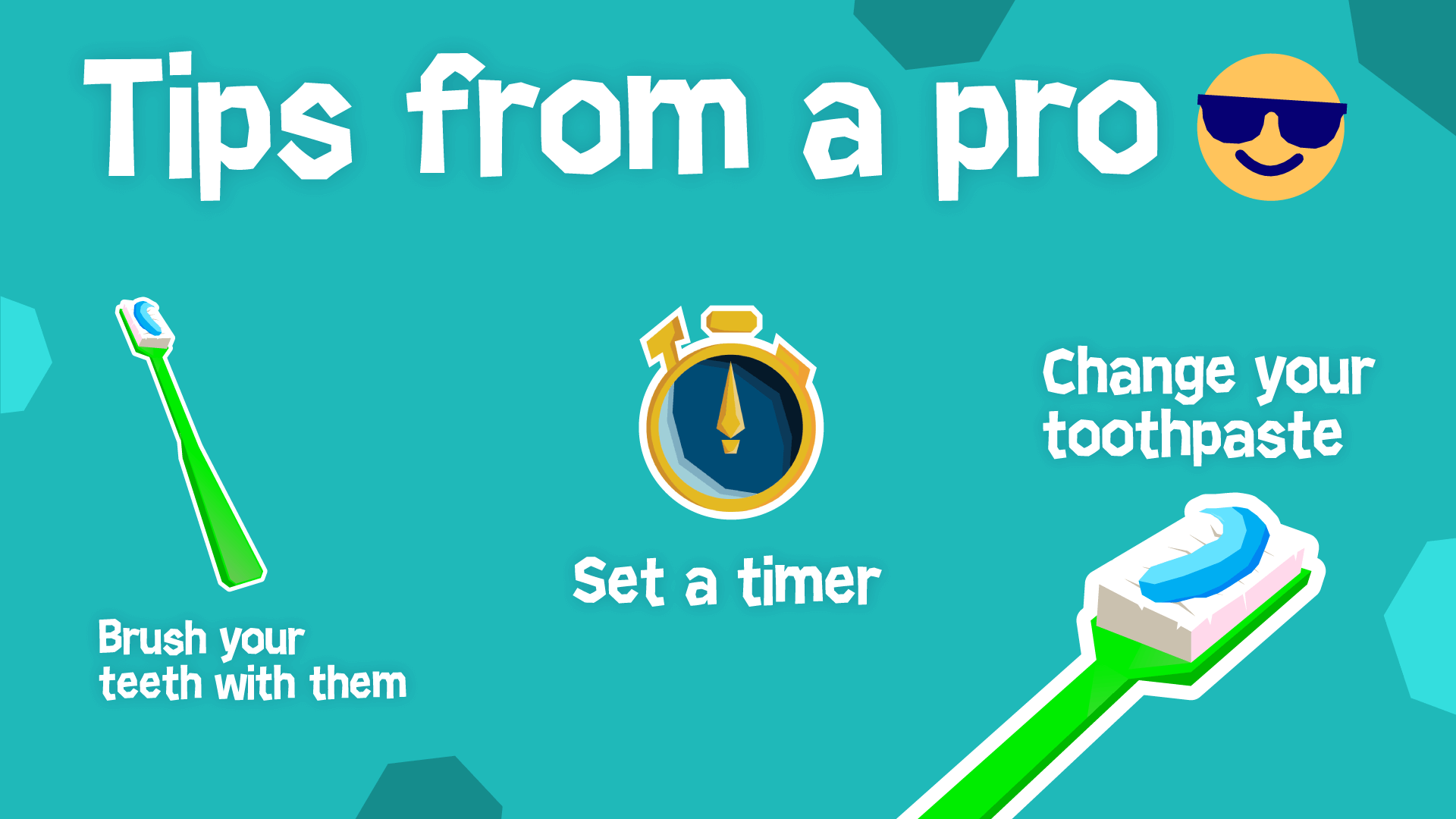 5. Getting Dressed for School
Zachary is looking for his shoe, while Mathis waits on the edge of the door, ready. When we're finally done feeling like Indiana Jones looking for the Lost Shoe, Mathis remembers that he left his lunchbox on the table. Lunch box in hand, it's Zachary's turn to remember that he had an assignment to sign. Okay, a bit of an exaggeration, but these situations can happen to you on school mornings. It's worth preparing for the worst!
As mentioned above, it would be a good idea to have a place to put everything backpack, shoes, lunch box. You can do a quick check at a glance that will save you minutes (so important in the morning) of daily hide and seek.
Kairos Tips and Recommendations for a Productive Morning Routine
Parents often put their children's needs before their own, and that's very natural. But don't forget to take care of yourself too!
It's challenging enough to adopt good habits and effective routines, and doing it with children takes a lot of time and energy. No one can do it without a good sleeping routine and organization! Here are some tips for parents and children who want to adopt a morning routine.
1. Sleep Is Important for Parents Too!
If your mornings look like the Formula 1 Grand Prix trying to shower, get ready and get your kids ready as well, you won't be able to give your kids the attention and time they need.
A sleep routine isn't just good for kids - it's also crucial for yourself. The best advice we can give you is to sleep!
We agree, it is not always easy. In fact, studies show that between 10 and 30% of adults have symptoms of insomnia. But there are several tips to improve your sleep hygiene. Here are some tips to help you.
Some Tips to Fall Asleep Faster:
Limit or avoid naps, especially at the end of the day
Restricting alcohol, caffeine and tobacco consumption in the evening
Avoid late night meals
Limit screen time before bed or in bed; choose a book instead
Maintain a healthy diet and exercise regularly during the day
Follow a consistent sleep schedule that includes the same bedtime and wake-up times every day
Following all of these tips can be a pretty radical change in your lifestyle. Start by trying one of these tips for a week and see the difference. For example, instead of catching up on your favourite TV shows after putting the kids to bed, read a book 30 minutes before bed.
2. Plan Your Morning Routine
Your Children Are Sleeping Through the Night and So Are YouNow What?
Once you and your kids get enough sleep, mornings should already be a tad more pleasant. If you still feel that your mornings are more like a tornado than a gentle sea breeze, you should develop a good organization and plan your morning routine. The time you spend preparing the night before will reduce your stress the next day and increase your productivity!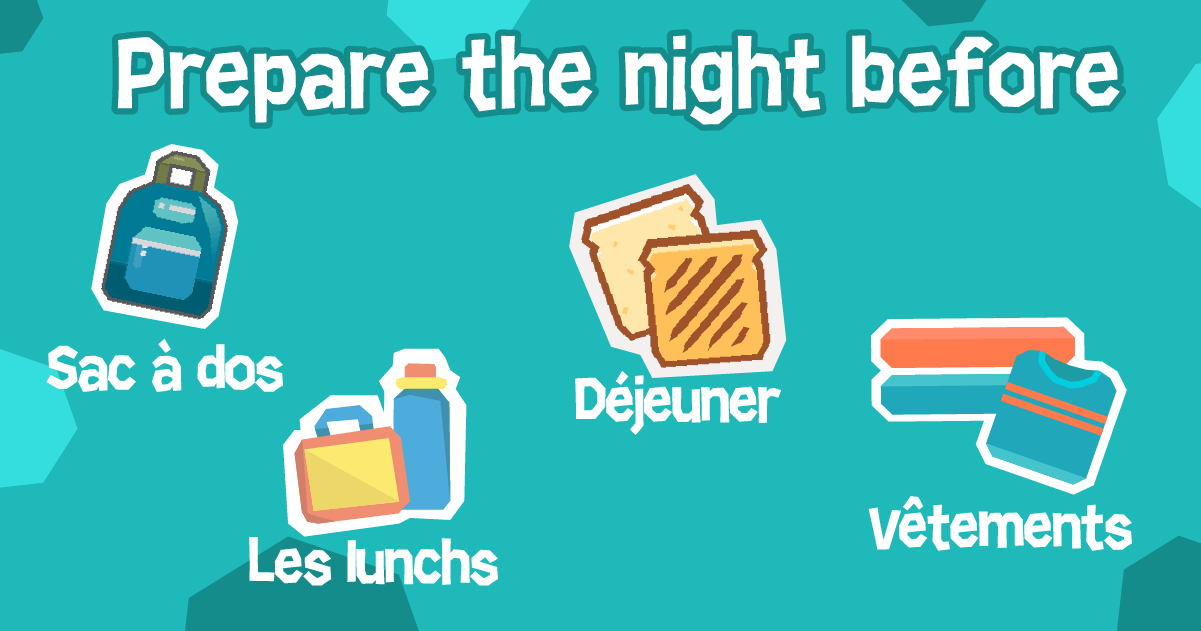 For example, make sure that:
Backpacks are ready with homework and textbooks for the next day;
The next day's outfit is ready;
Children's lunches are ready;
Your lunch is prepared;
Breakfast is planned;
Kairos tip? Pick a place in the house where you can store all the necessities for the next day, such as shoes, lunch boxes, backpacks, etc.
Try this trick for yourself! Put your keys, wallet and phone in the same place. This will save you from furiously searching for your wallet when you're already late after looking for Zachary's missing sock.
3. A Wake-Up Routine for Adults? Of course!
Our reflex is to think that we can get ready at the same time as the children.
The truth is, when you're a parent, logic doesn't always win.
To minimize your chances of having an inconvenience prevent you from having the calm, efficient and happy morning you want, take the time to wake up first. Becoming a morning person may take time, but it's worth it in the long run!
This will give you time to take your first sip of coffee calmly, shower in all the sweetness you deserve and get ready without having to deal with the sleeping beauty who refuses to get out of bed for school. You can even read a few pages of your book before the day starts!
Plus, you'll allow yourself to start your mornings in a good mood.
4. A Good Morning Routine With Your Children Comes With Practice!
Routines (and mornings) are not always easy. Perfection doesn't exist, but like anything else, the more you practise, the better you get! Our advice is simpledon't give up!
Don't worry if your first morning routines aren't as effective as you'd like. Your first routine will lead you to change and improve so that it can meet your goals. There is no magic recipe and you will need to be disciplined! If your kids are struggling with their morning routine, read our article on how to build your routine.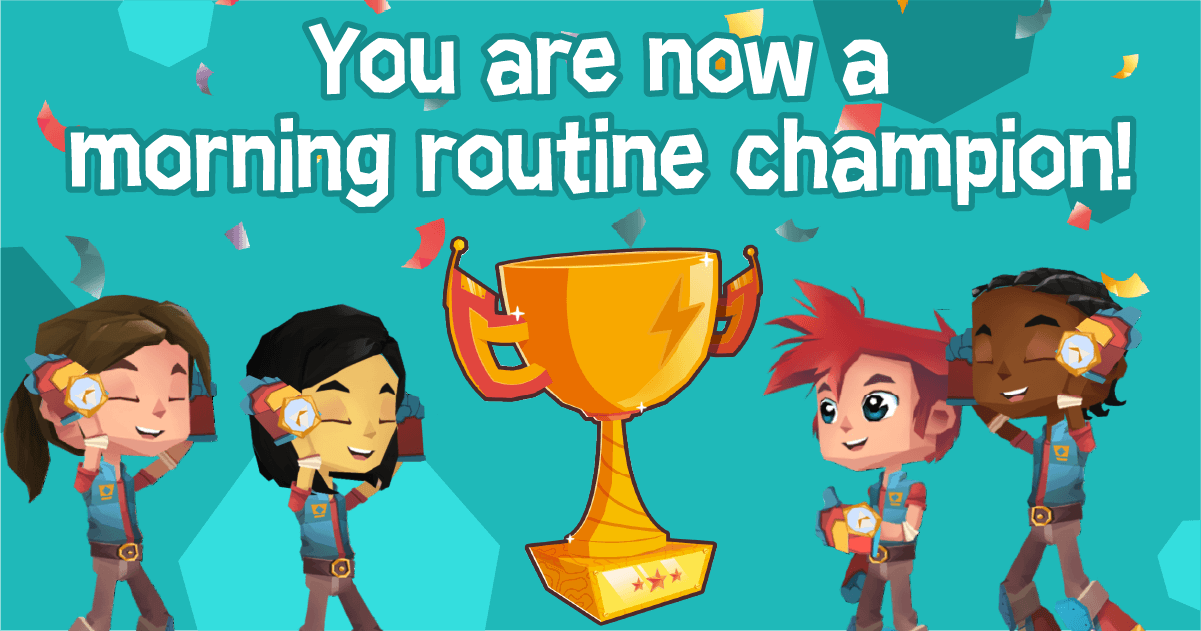 Kairos Game - The perfect Tool to Improve Your Children's Routine!
A Video Game to Learn Routines and Tasks in a Fun Way!
Kairos is a game for phones and iPads that help your kids to learn how to implement a morning routine. It is also a way for parents to use positive reinforcementmaking the bed, eating breakfast and brushing their teeth will help your child progress in the game. By sticking to their routine and showing discipline, they can unlock gear, powers and even a new level! Kairos transforms children's experience and pushes them to develop good habits and independence.
Kairos Game is what many parents are looking for when they have difficulties with routines. The parenting section allows you to follow your children's learning in a concrete way and accompanies you with advice on the right actions to take, in addition to taking a weight off your shoulders. Don't hesitate to test Kairos for freewho knows, it could be the solution to your problems!
We are not the ones saying this, it's the science and our users!
You lose time in the morning without even knowing it - blame the transitions!​
It's 7:00, everything is fine, the routine starts, then BAM! It's already 8:00, you're late and you have no idea where the time went. The problem probably lies in the transitions... So what can we do about it? See the next section on transitions for solutions to apply!